 Nominated for the Director's Guild of Canada Awards' Allan King Award for Excellence in Documentary Filmmaking, 2018

A beautiful, moving, and thought-provoking reflection on the creative process and the things that make us human."
-- Jonathan Lethem
The Film
Inspired by Lewis Hyde's beloved classic "The Gift: Creativity and the Artist in the Modern World", GIFT is a tribute to something that can't be measured or counted, bought or sold. An intimate exploration of real-life gift economies, it's a reflection on the creative process, the reasons we labour in service of our gifts, and a celebration of the imagination.
The Book
By now a modern classic, The Gift is a brilliantly orchestrated defense of the value of creativity and of its importance in a culture increasingly governed by money and overrun with commodities. Widely available again after twenty-five years, this book is even more necessary today than when it first appeared. An illuminating and transformative book, and completely original in its view of the world, The Gift is cherished by artists, writers, musicians, and thinkers. It is in itself a gift to all who discover the classic wisdom found in its pages.
"The best book I know of for talented but unacknowledged creators. A masterpiece."
—Margaret Atwood
"No one who is invested in any kind of art can read The Gift and remain unchanged."
—David Foster Wallace
"Few books are such life-changers as The Gift: epiphany, in sculpted prose."
—Jonathan Lethem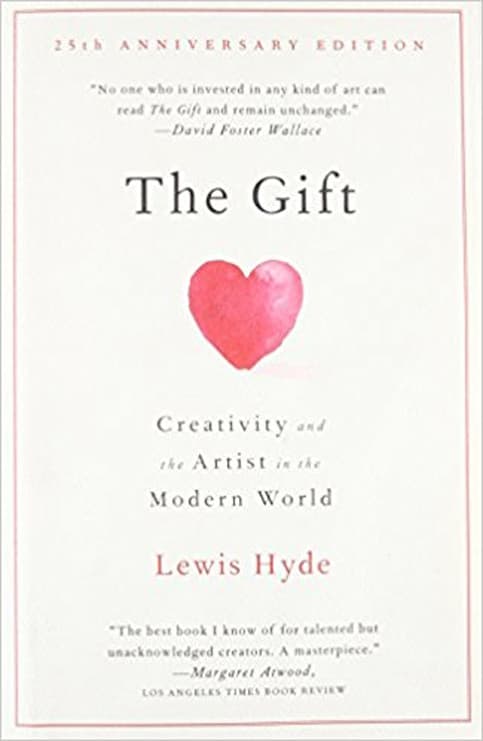 Screenings
HUDSON, NY - June 27, 2019 at Basilica Hudson, with musician & writer Amanda Palmer (The Art of Asking)
MONTREAL, QC - July 23, 2019, Cinéma sous les étoiles (V.F.- Le don), Parc Saint-Gabriel, le Sud-Ouest
AMHERST, MA - July 29, 2019 at Amherst Cinema
NORTHAMPTON, MA - July 30, 2019 at the Academy of Music
PERTH, ON - Aug 17, 2019 at Wildwood Farm/Fieldwork Loft
To book a screening in the US, for community or education screenings, contact Good Docs.
In Canada, our distributor is Cinema Politica.
For international sales & screenings, our distributor is Taskovski Films.