"What we have been given must be given away, not kept- the gift must always move." 
writes Lewis Hyde. 
Bring GIFT to your community…wherever you are.
We are partnering with Gathr Films, to do a special Theatrical On Demand release in the US!
Go to their website on the link provided below and pick the date, time, and theatre of your choice and Gathr will do the rest. 
All you have to do is promote the screening, and get people to buy tickets in advance. 
Running time: 89 mins. 
We spent 5 years creating GIFT, a labour of love. It's a film designed to create reflection and conversation… & bringing people together to the cinema is an inspiring way to make that happen. 
How does it work?
Step 1. You set a day, time & preferred cinema to screen GIFT. Gathr organizes the event with the cinema.
Step 2. You invite people to the screening. Promote your screening like crazy – using social media and the tools we provide for you.
Step 3. When enough tickets are reserved the screening goes ahead. If it doesn't get the numbers required you can try again later – no one loses any money.
How much does it cost to host a screening?
Nothing!  No hire fees, no booking fees. It is free for you.
Once your request has been approved, you'll get an email confirming you as a Movie Captain, and you'll receive a link to begin.
GIFT will come to your community only if enough tickets are sold in advance. So invite your friends, share your enthusiasm and create an inspiring experience.
Your local indie theatre not listed?
Let the GATHR team know and see if they can work with that venue. psl@gathr.us.
Don't want to host a screening in a movie theatre?
No problem. You can have a screening at any venue of your choosing as long as it has good picture and sound. Write to the folks at GATHR psl@gathr.us. 
What audiences are saying
"More than a worthy tribute to one of my favorite books, Robin McKenna's Gift translates Lewis Hyde's remarkable notion into new terms. A beautiful, moving, and thought-provoking reflection on the creative process and the things that make us human."                      – Jonathan Lethem
"Marvelous and inspiring"        – Lewis Hyde, author of The Gift
We had about 70 people at the screening and a VERY lively discussion that went on in the foyer after you left…. It certainly provoked people thinking….. even long after we had closed up – I went to leave and found a huddle of people in the carpark still talking (in the freezing Canberra winter!)                           – Simon Weaving, curator, National Gallery of Australia
Especially for the world-weary, this film and its stories are a gift to us all from the insanely talented Robin Siobhan McKenna #Gift         – Justine McIntyre, Montreal
Robin Siobhan McKenna your film is truly a Gift! A magical journey in four different yet parallel cultures of art and giving. Creativity bringing forth the simple truth that giving is the gift itself…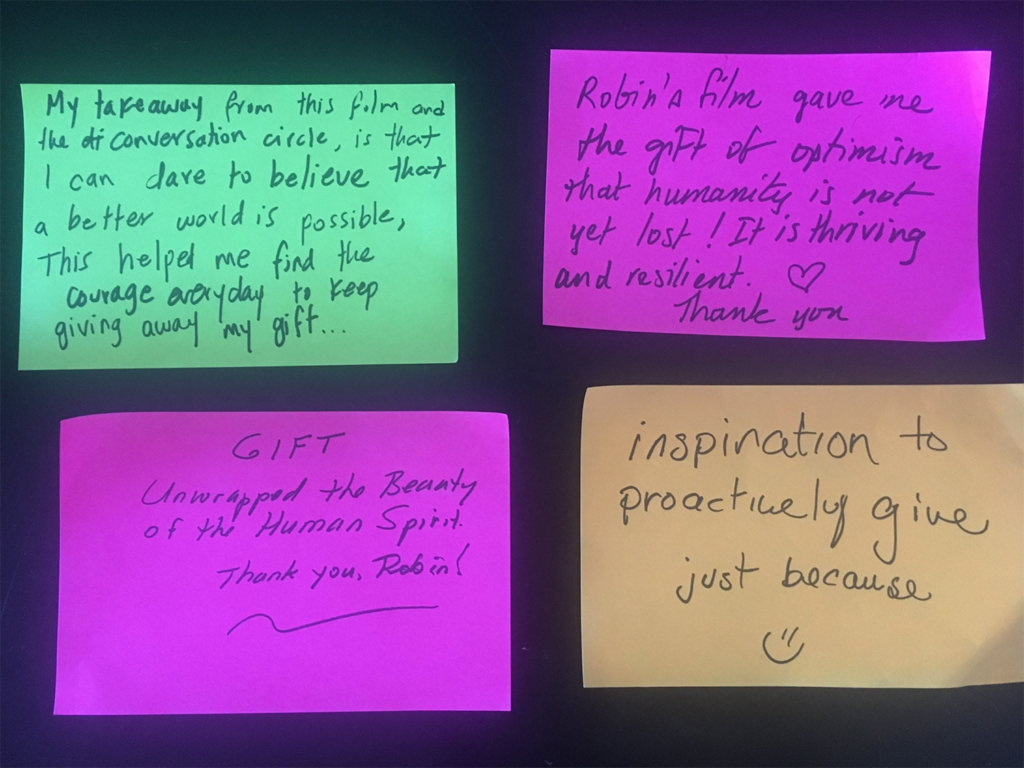 From group dialogue, following screening of GIFT – hosted by Michelle Holliday (The Age of Thrivability) and Daana
Here are some themes that I noticed in the conversation following the film:
* It's hard to think of experiences of generosity, but once you get started you realize life is filled with them.
* Creativity and generosity are profoundly related and may be the same thing.</i<
* "Exchange" is too small a concept for the practice of generosity. Generosity is generative, so that everyone feels that they get more than they give.
* There was an urge to start acting on the inspiration of the film – to think of things we can do!
* We can also be generous to ourselves – giving ourselves time, self-care, movement, etc. This is a pathway to joy.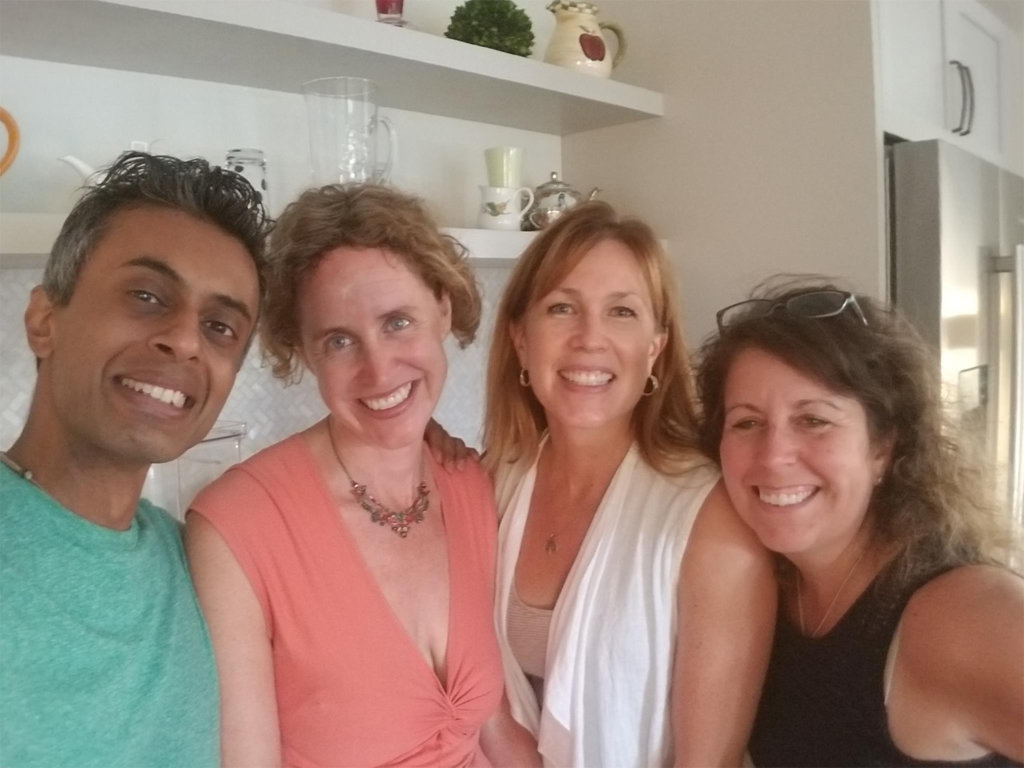 Daana founder Bhaskar Goswami, filmmaker Robin McKenna, host Michelle Holliday and Maggie Costa, West Island Cancer Centre